London Transport Gibson Ticket Machine
London Transport had their own ticket machines designed in house by George Gibson a former superintendent of LT's ticket machine works. These machines were robust and kept a tally of each value ticket issued and a total of all tickets issued. The machines are capable of issuing tickets from a range of 14 different fares. Supplimentary dials allow the insertion of fare stage boarded, type of ticket and the route or date ticket issued. Only the Country Gibsons had the date facility on London Transport. The early machines were obviously "£sd" though tickets were only in shillings and pennies. With the advent of decimalisation the fares were changed to simple numbers with no currency symbol (as per the photographs below) however as inflation took off the number of composite tickets issued became a problem so London Transport converted the machines to issue fares based on a letter (A - P omitting O and I).
In the photographs below it will be noticed there is a knob which can set the ticket type to ORD, COM, EMS, C, X, or C/M where ORD is Ordinary (ie Adult), COM is composite where more than one ticket was issued to cover the fare, EMS is Early Morning Special (like workman's tickets on the Railways), C is Child, X is Extra and C/M doesn't appear to have been used.
Below there are a number of pictures of a Gibson ticket machine recently acquired and, because London Transport had removed their name before disposal, it has been modified to shew S.D.R. so we can use it on our .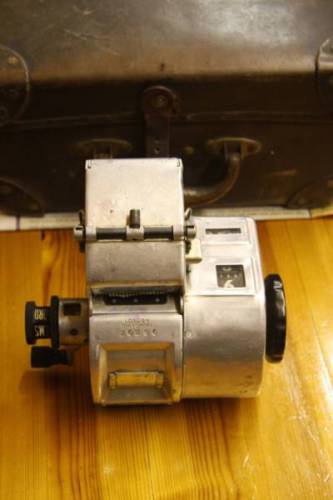 An ex-London Transport Gibson Ticket Machine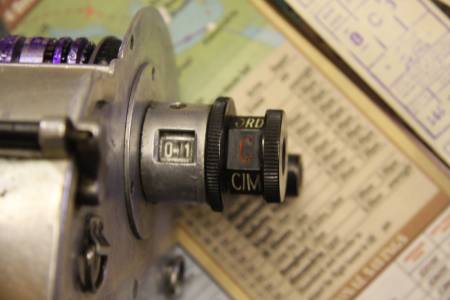 Fare Stage indicator (in window) and ticket class (on knob flats)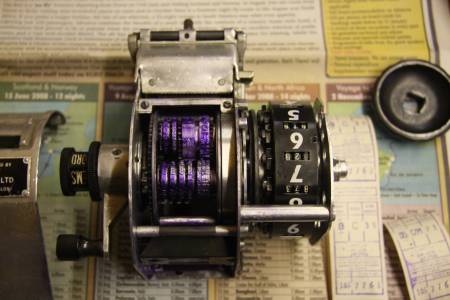 Gibson Ticket Machine with covers removed shewing printing mechanism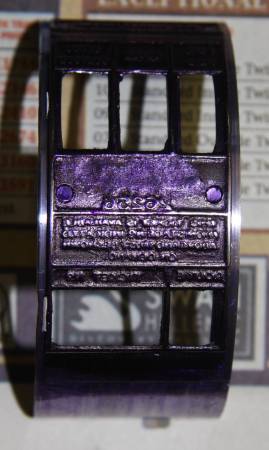 The printing plate used in the Gibson Ticket Machine
(with "London Transport" removed by LT before disposal)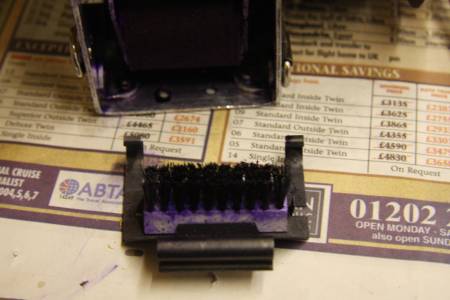 Printing Plate Cleaning Brush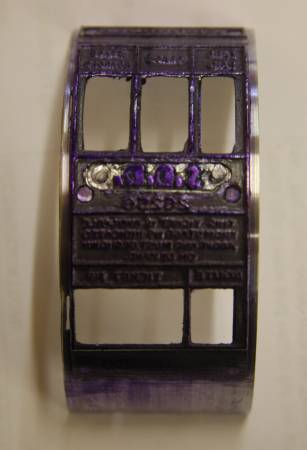 Printing Plate with SDR insert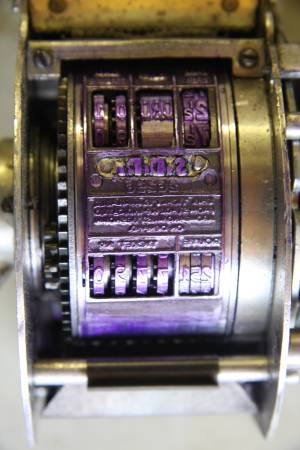 SDR Printing Plate refitted to the machine

Sample SDR Omnibus Ticket after printing plate modification
All photographs © Gavin R. Bishop
For more information and for examples of London Transport Tickets visit Toby and John's Transport History website
(

Please Note the South Devon Railway is not responsible for any damage that may occur by visiting third party sites

).